Dayton and Springfield Ohio Heating, Geothermal and Air Conditioning Contractor
Detmer and Sons, Inc. is a leading Heating, Geothermal and Air Conditioning contractor in the Dayton and Springfield, OH area. We have been serving our valued customers for three generations.
Our goal is to give our customers the confidence and peace of mind that Detmer and Sons is the right company for them. We constantly educate and train all Detmer and Sons employees on the skills needed to provide our customers with the most professional, personal, ethical and timely services in the industry. Learn More »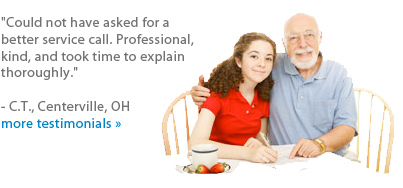 ---
Customer Satisfaction
Excellent Service
Tim Sweeney deserves a compliment- courteous, professional and on time!
Thank you - see you in the Fall!
Thank you for a job well done!
Thank you and your technician for the excellent work done to repair our furnace in a very timely manner. Also, we appreciated this tech coming on Sunday afternoon to inspect our furnace. Job well done.
Would refer many friends to you.
Courteous and Professional Work
Carl is always very courteous and professional Also on time to perform the service work.