Comfort Assurance Program
Keep your heating and cooling equipment operating at peak efficiency level all year
Detmer and Sons Residential Comfort Assurance Program is designed to keep our customers' heating and cooling equipment operating at its peak efficiency level year round. Our Comfort Assurance Program customers will be notified by a Detmer and Sons representative prior to each heating and cooling season to schedule their planned maintenance visits. Although our Comfort Assurance Program will not eliminate all equipment breakdowns, it will help prolong the life of your system.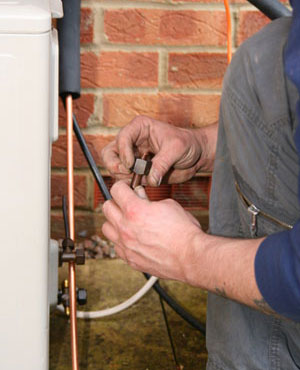 Benefits of our Comfort Assurance Program:
Value Rate: on all repairs, which is 15% below Standard Rate.
Reduced Fuel Bills: by cleaning and calibrating your equipment on a regular basis, the equipment keeps running at peak performance thus saving you money on your utility bills
Peace of Mind: potential problems are spotted before they can cause trouble. Repairs can be made inexpensively before causing any major repair bills and emergency calls.
Prolong Equipment Life: routine maintenance keeps your equipment in top operating condition, this prolongs its life, therefore lowering your annual cost of equipment.
Safety: routine maintenance assures the safe operation of your equipment by correcting potential problems before they become dangerous.
Priority Preferred Service: should you need service, Standard or Emergency, you are entitled to preferential treatment over non-Service Agreement Customers.
Service You Can Trust: our skilled technicians know their business. Rely on them and our reputation to give you fast, dependable and fair service. We work with you to schedule your service calls when convenient.
Scheduling Convenience: We call you when it is time for us to come out, so that is one less thing off your to do list you will have to worry about.