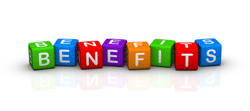 Is the air conditioner in your Dayton area home leaving you uncomfortable while costing you what seems like a small fortune in energy bills? Maybe it has broken, and now you're left deciding if you should have it repaired, or just replace it altogether. When facing a possible repair of your system, remember to follow the 50 percent rule. If it will cost 50 percent or more of what your existing system is worth, you're better off replacing the whole air conditioner. Maybe your system is working OK now, even though it has passed its 10th year. Even so, you may find that the benefits of a new air conditioner make a new A/C purchase worth considering.
Convenience: By upgrading your cooling system to a new, high-efficiency A/C, you'll be less likely to experience a system failure that would result in discomfort, hassle and expense.
Save energy: When you replace your old, inefficient system with a high-efficiency system, you will save energy every month, which creates monthly savings as well.
Tax credits: You can receive $300 of the cost of your A/C purchase back in federal tax credits on qualified high-efficiency models. These are good for systems bought in both 2012 and 2013.
Environmentally friendly: Older systems used R-22 refrigerant, which is harsher on the environment and is being phased out. Newer systems come with more environmentally friendly refrigerant.
Warranty: Your new system will be covered under a warranty so you can sleep easily knowing you won't have to pay for repairs if it does experience problems.
Enhanced comfort: New A/Cs are more effective at keeping your home at the comfort level you desire by keeping the temperature more even and the humidity under better control.
Improved air quality: By keeping humidity down in your home, your new system will help prevent mold and mildew growth in your home. Newer cooling systems often employ variable speed blowers, which usually run at a slower, more continuous speed. This allows for the better humidity control and air filtration.
For more information on new A/C purchase, please contact us at Detmer & Sons, Inc. We have been serving the Dayton area for three generations.
Our goal is to help educate our customers in Dayton, Ohio about energy and home comfort issues (specific to HVAC systems).  For more information about purchasing a new A/C  and other HVAC topics, download our free Home Comfort Resource guide.
Image courtesy of Shutterstock