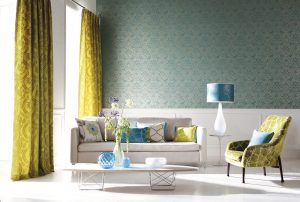 Some HVAC elements have to be installed in plain view to work efficiently. This poses a challenge for interior decorating. Luckily, there are several ways you can decorate them or stylishly hide them, making them less of an eyesore. Read on to find out these creative interior design techniques.
Installing Close to the Ceiling
Placing an indoor HVAC unit above doorways, windows, and large furniture pieces such as bookcases and cabinets draws the eye away from the unit. If you install the unit above a window, try to place it far from the window to prevent energy loss.
Recessed into a False Beam
Try installing your indoor unit in a recessed hole in a false beam. You could even add recessed lighting and built-in furniture. The unit will seem to be flush with the wall, making it less visible.
Behind a Cover
If you have some carpentry skills, you can create a cover for your indoor HVAC elements. For example, you can cover a thermostat using canvas on hinges, and an air conditioner with wooden lattice that matches your wall shelves or a chalkboard cover, which you can use to note down your to-do list or record the scores of your family games.
Using Artwork
Placing a decal on your mini-split unit is a beautiful way to improve your interior design while making the appliance less conspicuous. You can incorporate your thermostat into the existing decor by placing a wall decal around it.
Inside Furniture
You can hide your HVAC unit inside built-in furniture. For instance, you can build an entertainment unit or open bookcase around the unit.
Regardless of the way you choose to dress up your HVAC components to integrate them with interior design, make sure you maintain enough clearance. That will ensure you don't lower the efficiency of these appliances. For more heating and cooling hacks, contact the experts at Detmer and Sons. We've provided reliable heating and air conditioning services to the Dayton area since 1978.
Our goal is to help educate our customers in Dayton, Ohio about energy and home comfort issues (specific to HVAC systems).