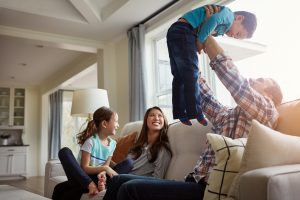 While it can be difficult to stay comfortable outside due to extreme weather, it should be less challenging to ensure maximum comfort indoors. Your Dayton home can feel less comfortable when something's amiss. You can easily boost home comfort if you know the main factors that affect it. Here's a closer look at these factors.
Humidity Level
The heat and humidity outside your home can have an impact on how you feel in your home. When it's hot and muggy, there will be a sticky feeling inside your home. The excess moisture in the air interferes with your body's cooling system by making it harder for sweat to evaporate from your skin. As a result, you feel uncomfortable.
You can lower your home's humidity levels by:
ensuring your cooling system is in proper working condition
changing your air filters regularly
installing a whole-house dehumidifier
Temperature Control
A home that's too hot or too cold can't be comfortable. The outdoor temperature, heat gain through your windows, and the body heat generated by the people living in your home are some of the factors that can affect your indoor temperature in the summer.
Steps you can take to keep the temperature inside your home consistently comfortable include:
using a programmable thermostat to make temperature regulation easier and more efficient
having an A/C system that's properly sized for your home and well-maintained
Air Quality
The air in your home can contain pollutants that make life pretty miserable by creating odors, irritating your eyes, nose, and lungs, or causing other serious health issues. The main culprits include dust, pollen, mold, pet dander, cleaning products, and off-gassing VOCs (volatile organic compounds).
You can greatly improve your air quality by:
regularly replacing your filters
installing a whole-house air purification system
By taking control of these three factors, you'll ensure your home remains comfortable throughout the hot summer. To learn more about home comfort, please contact us at Detmer and Sons. We've satisfied the home comfort needs of homeowners in the Dayton area for three generations.
Our goal is to help educate our customers in Dayton, Ohio about energy and home comfort issues (specific to HVAC systems).