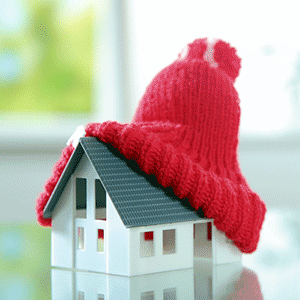 A cold, dry Dayton night can quickly sap the warmth out of a poorly-weatherized home. By taking some basic steps to defend your home against heat loss, however, you can keep your living space cozy all winter.
Patch the Leaks
The average home hides dozens of tiny cracks that let air leak through, wasting warm air from the furnace and causing drafts. Common culprits include:
Windows and doors

Electrical outlets and light switches

Baseboards and crown molding

Exhaust and ventilation fans

Entry points for plumbing and gas pipes, and wiring

Fireplace
In the attic, leaks are common around the access hatch, vents and chimneys, recessed lighting fixtures and dropped soffits. In the basement, rim joists are a cause of heat loss.
Start blocking this air loss by applying weatherstripping to the moving joints of your windows and doors. Next, caulk around the window and door frames, as well as around any other non-moving leaky areas. Install insulating foam gaskets to air seal outlets and switches on exterior walls.
Air duct joints should be securely connected and sealed with mastic. Unsealed ducts can waste as much as 30 percent of the air they carry.
Upgrade Your Insulation
Warm air naturally rises and much of your heat will be lost through the roof if this area isn't properly insulated. An attic in Dayton needs a minimum of an R-49 layer of insulation, although you'll benefit more from an R-60 layer of attic insulation, which equals around 17 inches of fiberglass batts.
If your walls feel cold in winter, they need more insulation. For an assessment of your wall insulation, schedule a professional home energy audit. During this inspection, the technician will use tools such as a blower door and infrared camera to measure your home's heat loss. The data collected help you decide where to improve your home weatherizing efforts.
If you decide to add more insulation, it's possible to install loose-fill insulation without tearing up the walls and floor.
To get a pro's help minimizing heat loss in your home, contact us at Detmer and Sons in the Dayton area.
Our goal is to help educate our customers in Dayton, Ohio about energy and home comfort issues (specific to HVAC systems).
Credit/Copyright Attribution: "stockcreations/Shutterstock"