Detmer and Sons
Geothermal Advantage
Did you know that the US Environmental Protection Agency states that geothermal systems are the most energy-efficient, environmentally clean, and cost effective space conditioning systems available today.
Did you also know that thanks to improved technology, geothermal systems are no longer just beneficial for homes in rural areas with plenty of land? Today geothermal systems are now available and cost effective for homes located in city with limited space so that all homeowners can take advantage of this energy efficient system.
Detmer and Sons can help you choose the best geothermal system suitable to your lifestyle and your home's design.
We also guarantee your geothermal system will be completed in a timely and professional manner.
Geothermal
Horizontal Loop
A horizontal closed loop field is composed of pipes that run horizontally in the ground. A long horizontal trench, deeper than the frost line, is dug and U-shaped or slinky coils are placed horizontally inside the same trench. Excavation for shallow horizontal loop fields is about half the cost of vertical drilling, so this is the most common layout used wherever there is adequate land available.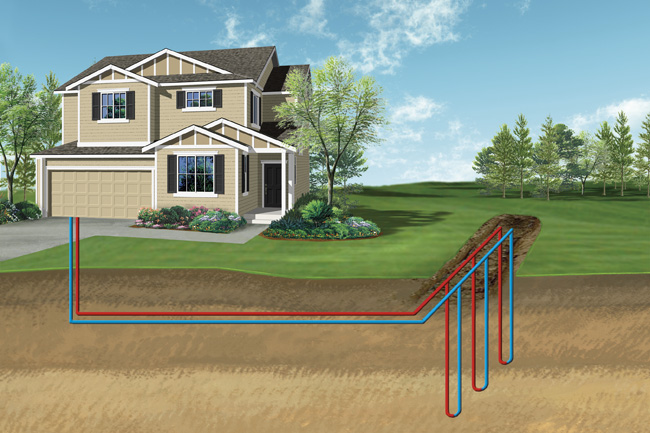 A vertical closed loop field is composed of pipes that run vertically in the ground. A hole is bored in the ground, typically 50 to 400 feet (15–122 m) deep. Pipe pairs in the hole are joined with a U-shaped cross connector at the bottom of the hole. The borehole is commonly filled with a bentonite grout surrounding the pipe to provide a thermal connection to the surrounding soil or rock to improve the heat transfer. Thermally enhanced grouts are available to improve this heat transfer.
We Offer a Free Home Pay Back Analysis
Find out how much you could be saving by scheduling a consultation with us today.
How Can Geothermal
Save Me Money?
A geothermal system taps into the earth to capture free, renewable energy.  The system extracts that free energy for all your heating and cooling needs.  The transfer of energy is done through a series of pipes buried in the ground.  This free and renewable energy can save up to 70% in heating costs, up to 50% in cooling costs, and around 30-50% in hot water costs.
Why Choose a
Geothermal System
Federal Rebate:  The Bipartisan Budget Act of 2018, signed in February 2018, reinstated the tax credit of geothermal heat pumps. The property credit provides 30% for Geo-Thermal systems place in service by 12/31-2019, 26% between 12/31/19 and 1/1/2020 and 22% between 12/31/2020 and 1/1/2022
Savings:  Geothermal systems can save your home up to a 60% savings compared to ordinary systems.
Environmentally Friendly:  Geothermal systems are clean, green and reduce your carbon footprint for generations.
Proven:  Geothermal technology has provided proven results for over 40 years.
Reliable:  Geothermal units average life is around 25 years.  They also contain fewer moving parts and require limited maintenance compared to your conventional HVAC system.
Flexibility:  Geothermal systems provide your home with its required heating, cooling and hot water needs with one system.
Free Hot Water:  During unit operation, free excess heat is used to supplement the home's water heater.
Safe and Clean:  No flame, no flue, no odors.
Plus – Many utilities offer incentives such as rebates or financing programs to encourage the installation of geothermal heat pumps. Our consultant would be happy to explain further.
An Optimal Geothermal System
Is Our Specialty
Designing an optimal geothermal system is no small matter and it takes a lot of work to get it just right. Every home needs to have its geothermal system uniquely designed and our team of professionals is here to help you through every step of the process from design to selecting the equipment.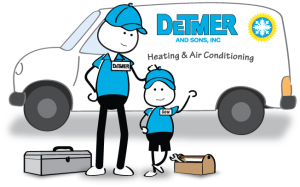 At Detmer and Sons, our goal is to give our customers the confidence and peace of mind that Detmer and Sons is the right company for them. We constantly educate and train all Detmer and Sons employees on the skills needed to provide our customers with the most professional, personal, ethical and timely services in the industry.
Dayton: 937-879-2373
Springfield: 937-325-7396
Fill out the form below to get more information about our services. We're here to help with all of your HVAC needs!