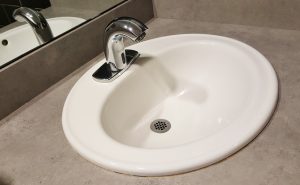 DIY tips for appliance spring cleaning, safety and maintenance tasks can really save you a lot of time, aggravation and money. While an A/C tune-up may take priority on your spring-cleaning list going into summer, your drains and pipes need attention, too — especially if you're going to be entertaining guests and cooking more. Make sure everything flows smoothly this summer by being mindful of what you put down your drains and by using these drain safety tips.
Medical Safety and Drain Safety
When you are disposing of unused, unwanted or expired medications, don't put them down the drain or toilet. Like everything else that goes down drains, medications may end up in natural waterways and contaminate the drinking water supply and the environment.
Instead, take these medications to designated drop-off locations established by city, county and federal drug take-back programs. Drug drop-off boxes may be found at secure locations around Montgomery county. Find one that's convenient to your regular commute or errands route. Safe disposal of drugs also helps reduce the chance of someone accidentally or intentionally consuming your medications.
Paper Towels, Wipes, Cotton Swabs and Feminine Products
You flush toilet paper down the toilet. So, why not flush cotton balls, swabs, cleaning wipes and feminine hygiene products, too? Because, these products will clog your drain lines! Toilet paper is manufactured to easily break down in sewer and septic systems. Tampons, paper towels and other paper and cotton products are not. Throw these items in the trash bin — not your drains.
Leftover Grease and Foods
Many foods that may seem fine to pour down your drains or into the garbage disposal can actually cause damage over time. Most people know not to pour grease into the drains. Instead, pour leftover cooking grease into a metal container to use again. Other foods, such as pasta, coffee grinds, egg shells and large quantities of fibrous foods, shouldn't go into your drains and garbage disposal either.
For questions about drain safety and care or other home and HVAC tips for your Dayton area home, please contact the professionals at Detmer and Sons today!
Our goal is to help educate our customers in Dayton, Ohio about energy and home comfort issues (specific to HVAC systems).
Credit/Copyright Attribution: "Brett_Hondow/Pixabay"