Dehumidification Services
Detmer and Sons
Dehumidification Solutions
When creating a comfortable living environment, relying solely on the latest heating and cooling equipment may not always be enough. Have you noticed that your home feels clammy and stuffy, particularly during the summer and fall seasons? Excessive humidity is often the cause of these issues. That's where Detmer and Sons come in! We offer high-quality residential HVAC maintenance services, including dehumidification, to help solve all your humidity problems.
Detmer and Sons can help you choose the best dehumidification system suitable to your lifestyle and your home's design.
We also guarantee your dehumidification system will be completed in a timely and professional manner.
Tight and Efficient
Homes Can Spell trouble
The energy-saving trend in the housing market has resulted in more tightly insulated and energy-efficient homes. While this is beneficial in terms of reducing your energy consumption and carbon footprint, it can create unexpected challenges for humidity control. Modern home insulation techniques have inadvertently decreased the ability of HVAC systems to remove excess moisture. Everyday activities like cooking, showering, and doing laundry can introduce significant humidity into your home, more than what your cooling system can effectively eliminate.
Install Whole-House Dehumidifier
At Detmer and Sons, we're familiar with the impact of excess moisture on indoor air quality (IAQ). There are several options, but we recommend you install a whole-house dehumidifier for the most effective solution. Our dedicated team of IAQ experts will help you select the best dehumidification solutions to suit your home and lifestyle. We pride ourselves on delivering timely and professional dehumidification services to ensure your utmost satisfaction.
With a whole-house dehumidifier from Detmer and Sons, you can say goodbye to the discomfort caused by excessive humidity. Our services focus on improved ventilation and air circulation, creating an environment where your family can experience the comfort they deserve.

Optimal Dehumidification Systems
Are Our Speciality
Designing an optimal dehumidification system is a specialty of Detmer and Sons. We understand that every home is unique. Each dehumidification system requires careful consideration and planning. Our team of HVAC professionals will guide you through every step of the process, from designing the system to selecting the right equipment. With our expertise and attention to detail, you can trust us to create a dehumidification solution tailored to your specific needs.
Choose Detmer and Sons
When you work with Detmer and Sons, you can expect exceptional service and results. We've proudly served the areas of Montgomery and Clark Counties in Ohio since 1978. Our commitment to customer satisfaction and our ability to deliver on our promises is second to none! Our skilled technicians will complete your dehumidification system installation promptly and with the utmost professionalism. 
Don't let excess humidity dampen your comfort and compromise your indoor air quality. Trust the dehumidification experts at Detmer and Sons to provide effective solutions that will transform your home. Experience the comfort of proper humidity levels and enjoy a healthier and more enjoyable home.
Contact Detmer and Sons today to schedule a consultation and learn more about our dehumidification services. Our team of professionals is ready to assist you in selecting the perfect dehumidification system for your home. Remember, when it comes to dehumidification services, Detmer and Sons is the name you can trust.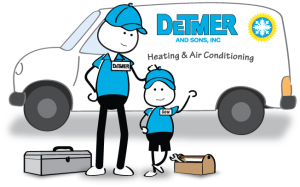 At Detmer and Sons, our goal is to give our customers the confidence and peace of mind that Detmer and Sons is the right company for them. We constantly educate and train all Detmer and Sons employees on the skills needed to provide our customers with the most professional, personal, ethical and timely services in the industry.
Dayton: 937-879-2373
Springfield: 937-325-7396
Fill out the form below to get more information about our services. We're here to help with all of your HVAC needs!