Dehumidification Services
Detmer and Sons
Dehumidification Solutions
The latest and greatest in heating and cooling equipment may not always be enough to keep you comfortable year around. Does your home seem clammy and stuffy at times, especially in the summer and fall months? Too much humidity can cause such problems. The IAQ experts at Detmer and Sons recommend a whole-house dehumidifier to help solve your problems.
Detmer and Sons can help you choose the best dehumidification system suitable to your lifestyle and your home's design.
We also guarantee your dehumidification system will be completed in a timely and professional manner.
Tight and Efficient
Homes Can Spell trouble
The energy-saving craze that has hit the housing market has created a tighter and more efficient home for all of us. Unfortunately, the advances in home insulation have caused a reduction in the amount of humidity a system can remove. Moistures infiltration in normal activities such as cooking, showering, and laundry are causing more humidity within your home then your cooling system can remove.
With a Whole-House Dehumidifier
improved ventilation and air circulation will help your family experience the comfort they deserve.

An Optimal Dehumidification System
Is Our Specialty
Designing an optimal dehumidification system is no small matter and it takes a lot of work to get it just right. Every home needs to have its dehumidification system uniquely designed and our team of professionals is here to help you through every step of the process from design to selecting the equipment.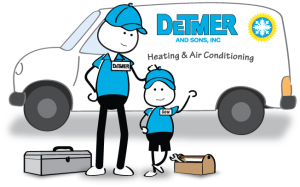 At Detmer and Sons, our goal is to give our customers the confidence and peace of mind that Detmer and Sons is the right company for them. We constantly educate and train all Detmer and Sons employees on the skills needed to provide our customers with the most professional, personal, ethical and timely services in the industry.
Dayton: 937-879-2373
Springfield: 937-325-7396
Fill out the form below to get more information about our services. We're here to help with all of your HVAC needs!