Detmer and Sons
Dedicated Professionals
Our talented and dedicated team members at Detmer and Sons, Inc. have years of experience in Heating and Air Conditioning and are looking forward to providing you with quality service.
ERIC DETMER, PRESIDENT
---
MATT DETMER, VP OF BUSINESS DEVELOPMENT
---
MIKE FITZSIMMONS, OPERATIONS
---
WALT KOESTERS, CONTROLLER
---
DAVID STROUPE, SALES MANAGER
THERESA ROOT, COMMERCIAL DESIGN
---
KENNY STRECK, INVENTORY & FACILITIES MANAGER
---
KEVIN AUSTIN, TRAINING MANAGER
---
ADAM SCHWAB, INSTALLATION MANAGER
---
SARAH BYNUM, OFFICE MANAGER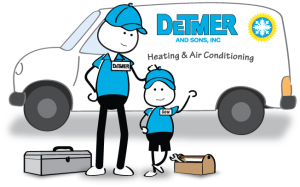 At Detmer and Sons, our goal is to give our customers the confidence and peace of mind that Detmer and Sons is the right company for them. We constantly educate and train all Detmer and Sons employees on the skills needed to provide our customers with the most professional, personal, ethical and timely services in the industry.
Dayton: 937-879-2373
Springfield: 937-325-7396
Fill out the form below to get more information about our services. We're here to help with all of your HVAC needs!