Detmer and Sons is now an Ace Hardware Company! Ace Hardware acquired Detmer and Sons, the HVAC service experts of Fairborn, OH, creating a new opportunity to redefine Helpful service in the heating and cooling business. Supporting over 5800 neighborhood stores across the country, Ace Hardware is a company dedicated to helpful service in local communities. Much like Detmer and Sons, Ace Hardware is dedicated to delivering an amazing experience to every customer, every time. Ace Hardware stores are locally owned and operated, with the goal to be helpful in the aisle and now in the home. We are excited to grow Detmer and Sons together with Ace to continue to support the local community for years to come.
Detmer & Sons
Vision Statement
To be clearly recognized as the leading professionals in residential and commercial HVAC sales and service in the Greater Dayton area.
To provide comfort and professionalism in every customer experience with excellent HVAC products and unparalleled service.
We Provide Solutions for All of Your
Heating and Air Conditioning Needs
We were established in 1978, and have been family owned and operated since then
We are an authorized dealer for Bryant and Lennox equipment
We carry quality accessories: Aprilaire, Electro-Air, and Honeywell
We service all makes and models of Furnaces, Air Conditioners, Heat Pumps, Boilers, Humidifiers, and Electronic Air Cleaners
Residential & commercial services
Continued factory training for our technicians
All employees are background checked and drug and alcohol tested
In-house sheet metal shop – customized ductwork
24 hour emergency service
Planned service contracts available
Specialized financing available
Licensed/Bonded/Insured
Free estimates for new equipment
2 locations to service Dayton, Springfield, and surrounding areas
Detmer and Sons
Family Of Businesses
Through acquisitions, the Detmer and Sons Family of Businesses has grown considerably since 2000. Below is the list of companies that have been integrated into the Detmer and Sons Family:
Brockman Furnace Company
Springfield, OH
Detmer and Sons acquired Brockman Furnace Company in 2000. It currently services our Springfield market.
McPhearson's Heating and Cooling
Springfield, OH
Detmer and Sons acquired McPhearson's Heating and Cooling in September of 2008. All McPhearson operations are currently run out of our corporate offices in Fairborn, OH.
Hussong Sheet Metal Company
Dayton, OH
Detmer and Sons acquired Hussong Sheet Metal Company in 2004. All Hussong operations are currently run out of our corporate offices in Fairborn, OH.
Clark's Sheet Metal
New Carlisle, OH
Detmer and Sons acquired Clark's Sheet Metal in the spring of 2013. All Clark's operations are currently run out of our corporate offices in Fairborn.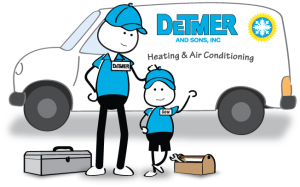 At Detmer and Sons, our goal is to give our customers the confidence and peace of mind that Detmer and Sons is the right company for them. We constantly educate and train all Detmer and Sons employees on the skills needed to provide our customers with the most professional, personal, ethical and timely services in the industry.
Dayton: 937-879-2373
Springfield: 937-325-7396
Fill out the form below to get more information about our services. We're here to help with all of your HVAC needs!