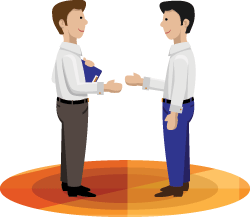 It's an unfortunate fact that some HVAC contractors are more focused on sales than customer service. Reputable contractors aren't just selling equipment and services — they want to form long-term relationships with satisfied customers. If you encounter an HVAC salesperson who's only focused on meeting a sales quota, here's how to handle the pressure.
Avoid Decision Making When You're Stressed
If you're without heating or cooling, or you've been advised that an issue with your HVAC system will jeopardize your family's safety if it's not fixed immediately, your emotional state makes it's easier for an unscrupulous salesperson to corner you into making a hasty choice. Regardless of the circumstances, don't decide anything when you're overwhelmed with worry — step back and clear your mind first.
Beware of Time-Contingent Discounts
If an HVAC salesperson quotes you a high initial price, then offers a big discount if you schedule your service or equipment installation right away, beware. The aim of this sort of pressure tactic is for you jump at what really isn't a great deal without taking the time to shop around.
Be Leery of Cash Offers
You should assume that any HVAC contractor who offers you a large discount for paying cash has something to hide. They may be avoiding the taxman or creditors, or they're just a fly-by-night operation that won't be around when problems start to crop up. If you're taken in by this type of manipulative pressure tactic, you're risking shoddy service or an inept installation that leaves you without any manufacturer's warranty.
Don't Fall for the Rush
A pushy salesperson can come up with some legitimate-sounding excuses to force you into making a rush decision. You might be told that they're almost sold out of the type and capacity of equipment you need, or that their technicians are normally booked up but you're in luck because they've just had a cancellation. If you feel pressured, just say you'll get back to them and move on.
For expert advice and top-notch service without any pressure from a pushy HVAC salesperson, contact the Dayton comfort pros at Detmer and Sons.
Our goal is to help educate our customers in Dayton, Ohio about energy and home comfort issues (specific to HVAC systems).
Credit/Copyright Attribution: "greiss-design/Shutterstock"