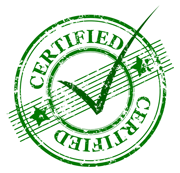 Hiring the right HVAC professional for your Dayton area home plays a key role in keeping your house running like a well-oiled machine. A great way to ensure that your choice is the best one for your needs is to seek a technician with NATE certification, a benchmark in the industry that exemplifies quality.
What NATE certification means to the industry
When an HVAC company sends its technicians out into the world to perform a variety of services for its customers, the company's reputation is in the hands of those technicians. For that reason, NATE certification is essential. Certification by this non-profit organization, which stands for North American Technician Excellence, is highly sought by heating and cooling professionals.
To obtain the NATE seal of excellence, technicians are put through a series of training and evaluation sessions to ensure their expertise. If an HVAC company does not employ NATE-certified technicians, it's best to look elsewhere for your repair or servicing needs.
What NATE certification means to your home
There are a number of categories that each NATE-certified technician can choose to specialize in, which means that no matter what the job is, the technician will possess the required expertise.
A technician who has been NATE certified has been trained to take care of whatever issues you need to deal with, and will do so in a courteous, timely manner. Plus, a NATE re-evaluation is done every five years in order for the technician to retain his or her certification. Because of this, you can be sure that the person installing, evaluating or repairing your HVAC equipment is current with any changes in the industry.
For more expert advice about NATE certification, or for questions relating to home comfort, please contact us at Detmer and Sons, Inc. We proudly serve the HVAC needs of Dayton and the Miami Valley.
Our goal is to help educate our customers in Dayton, Ohio about energy and home comfort issues (specific to HVAC systems).  For more information about NATE certification and other HVAC topics, download our free Home Comfort Resource guide.
Image courtesy of Shutterstock