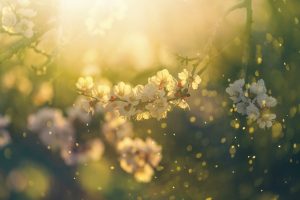 Many people fight spring allergies by keeping a box of tissues next to them at all times. That's not a bad idea, but you can also fight against them by following these simple HVAC tips:
Schedule a System Tuneup
When your HVAC system begins to age, the equipment won't be as effective at keeping allergens out of your air. You can keep it running properly by scheduling a yearly tuneup with a qualified HVAC technician. This is also a great way to extend the system's life.
Check Filters on a Regular Basis
Filters cut down on spring allergies by removing contaminants from the air, but they fill up rather quickly when they're doing the job properly. Make sure you check the filter on a regular basis and replace it as needed. Typically, it will fill up within one to three months, depending on use.
Keep Your Windows Closed
The spring air certainly feels good, so you might be inclined to keep the windows open during the season and let the fresh air inside. However, this is also how so many allergens get inside your home, so it's always best to close the windows as much as possible.
Use a HEPA Air Purifier
You can't get any better then a HEPA air purifier when it comes to removing contaminants from your home. These purifiers are 99.97% effective, which means your spring allergies will be greatly reduced with the use of one of these units.
Keep the Kitchen and Bathrooms Dry
When moisture accumulates in your bathrooms, kitchen, and other areas, you have a breeding ground for mold. This can severely hurt your indoor air quality and may even end up being toxic. To prevent spores from entering the air and irritating your spring allergies, keep these areas dry at all costs.
These strategies will help you reduce the amount of allergens in your home so that you can breathe easy again. If you need more assistance with reducing spring allergies or have any other home-comfort concerns, reach out to the friendly professionals at Detmer and Sons. We've been serving Dayton and the surrounding areas for more than 40 years.