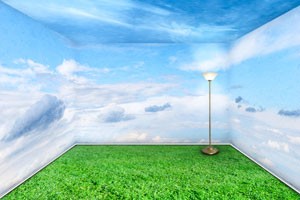 Smog control may be the main environmental worry for Dayton's many aerospace firms, but for most area home owners, dust reduction is the fastest way to improve IAQ (indoor air quality).
Limit the lint: Soft clothing, such as sweaters, produces lint and traps dust particles, making the dust harder to remove with just a cloth or vacuum. Keep cloths that shed in drawers or plastic boxes, or cover them with garment bags. The floors of your clothes and linen closets should be clutter-free so they're easy to vacuum or mop.
Keep your sheets fresh: To prevent your pillow and mattress from accumulating dust, cover them with allergen-proof covers. Change your sheets weekly and wash them in 130-degree water to kill off dust mites.
Clean more efficiently: Choose microfiber dust cloths and mops that pick up dust instead of just pushing it around. Twice a week, clean your floors with a vacuum that includes a HEPA filter. As you clean, set your thermostat to "fan only" to run your home's air through your HVAC system's air filter. Set it back to "auto" when you're done.
Seal up the cracks: Gaps and cracks around your doors and windows let in dust and other air contaminants. Sealing these with caulk and weatherstripping as appropriate not only helps improve IAQ, but also makes your home more energy efficient.
Buy a better air filter: Low-efficiency air filters are designed to protect your heating and cooling system, not to clean your air. For better air quality, choose a filter with a MERV rating between 5 and 11. MERV 10 or 11 pleated filters are an especially good choice if you have allergies.
Invest in an air cleaner: Placing a portable air cleaner near the front door helps cut down on the dust that enters your home. To reduce the dust all around your home, consider having a whole-house electronic air cleaner installed in your HVAC system.
For more information on how to improve IAQ, contact Detmer and Sons Inc., serving the Dayton area since 1978.
Our goal is to help educate our customers in Dayton, Ohio about energy and home comfort issues (specific to HVAC systems).
Credit/Copyright Attribution: "Avesun/Shutterstock"