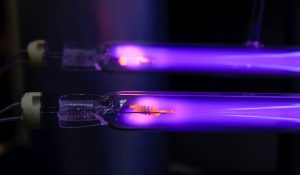 How much thought do you give to your indoor air quality? If you're like most homeowners, not much. But if anyone in your family is subject to asthma, allergies or other respiratory ailments, you really should pay more attention to your home's IAQ. If yours is like most people's, then it could very well be more polluted than the air outside.
Airborne Particulates
Most of the pollutants in your home are airborne particulates. They include these:
dust
pet dander
pollen
dust mites
insect particles
volatile organic compounds
mold
There are a number of ways you can deal with these particles, from using a good quality air filter to vacuuming with a HEPA (high efficiency particulate air) filter, to being more careful about not introducing these particles in the home on your clothes, through doors and windows, and through various chemicals. But mold and other living organisms are a different story, and require a different means of dealing with them.
UV Lights Target Mold, Bacteria
One effective means of targeting living pollutants such as mold and bacteria is with ultraviolet germicidal irradiation (UVGI) lights. UV light, which is invisible and on the short end of the light spectrum, has been used for decades in research, industry and medical settings for disinfection. In recent years, it has become available for installation in HVAC systems to target such common pollutants as mold and bacteria.
How UV Lights Work
UV lights are usually installed near the evaporator coils of the HVAC system — a damp location where mold commonly occurs — and in the return ducts. As the return air from the home is drawn through the HVAC for conditioning, it passes under the lights. The living organisms in the air are subjected to the UV light, which disrupts their DNA so they cannot reproduce when they are distributed in the supply air.
The lights generally last for about two years, and must be changed when they grow dim in order to be effective.
If you're thinking UV lights might be the solution for your mold or bacteria issues, contact Detmer and Sons of Dayton.
Our goal is to help educate our customers in Dayton, Ohio about energy and home comfort issues (specific to HVAC systems).