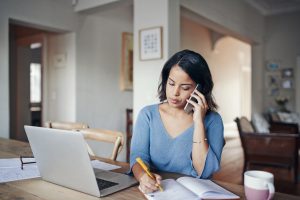 Your HVAC system contains some of the most costly and complex equipment in your home, and you rely on daily for comfort. This makes it vital to hire a qualified, reliable HVAC contractor when it needs maintenance, repairs or replacement. For peace of mind that you're choosing a reputable and dependable professional, here are some hiring best practices to follow:
Look for Proper Licensing, Insurance and Certifications
Any HVAC contractor you're considering hiring should have a current license with the Ohio Construction Industry Licensing Board (OCILB), and ample liability and Workers' Compensation insurance. A conscientious contractor will insist that their technicians are thoroughly trained and certified as well.
Check Affiliations, References and Reviews
Reputable contractors will be affiliated with leading HVAC trade organizations, like the Air Conditioning Contractors of America, be members of the local Chamber of Commerce, and accredited by the Better Business Bureau (BBB). They'll also have the names of previous customers you can call for references, and positive reviews with online sites like Angie's List.
Consider Equipment Quality and Efficiency
Contractors who care about their customers understand that HVAC equipment is a sizable investment, so they work with quality brands from reputable manufacturers – such as Lennox and Bryant. They also stay up-to-date on the latest industry advancements in technology, efficiency and installation best practices, and offer preventive maintenance services to help maximize your comfort and energy savings.
Expect a Home Assessment and Written Estimate
A dependable HVAC pro won't give you a ballpark estimate for services or installations over the phone. Instead, they'll visit to evaluate your home and discuss your needs. If you need new HVAC installed, they'll perform a detailed load calculation and duct design assessment, and offer you options for efficient systems within your budget. You can also expect a written estimate that details the equipment you choose, the scope of the work, your warranty coverage and a breakdown of the project cost.
When you need the skilled services of a reputable local HVAC contractor to maintain, repair or replace the comfort equipment in your Dayton home, contact us at Detmer and Sons.
Our goal is to help educate our customers in Dayton, Ohio about energy and home comfort issues (specific to HVAC systems).