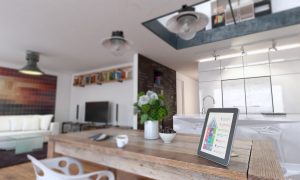 HVAC airflow is among the most critical factors when it comes to home comfort and efficiency. When airflow's not up to specs, cooling and heating performance declines, energy consumption rises and system components incur more wear and tear.
Every room has a supply vent that delivers conditioned airflow into that room. Usually, it's on an upper portion of the wall near the ceiling. When the system is running, feel for airflow from the supply vent in every room. If you can't feel any air or if the airflow feels weak in a certain room—or throughout the entire house—contact a qualified HVAC service provider.
These are some of the issues that impact proper HVAC airflow:
Balance is critical.
Your HVAC system incorporates two separate duct systems: supply ductwork delivers cooled or heated airflow to every room and return ductwork conveys airflow back to the air conditioner or furnace. Airflow volume in the supply ducts should be approximately the same as the airflow through the return ducts. This is called a "balanced" system. When system airflow volume is unbalanced—too much or too little supply or return airflow—system performance and efficiency suffer.
Leaks happen.
Most residential ductwork leaks over a period of years. Cooled or heated airflow escapes from ducts in unconditioned areas of the house such as the attic, crawl space or inside walls. This disrupts proper system airflow. A duct inspection and pressure test can determine the extent and pinpoint the location of leaks. Options to seal ducts are available to restore proper airflow.
Check obvious things first.
Two very common issues may immediately improve airflow.
Change the system air filter. A dirty air filter reduces airflow throughout the entire house. Install a quality air filter monthly during the cooling season and every other month during heating season.
Check the vents. Make sure all supply and return vents in the house are fully open and airflow into and out of those vents is not obstructed by furniture, drapes or other objects.
For professional service to diagnose and resolve HVAC airflow issues, contact Detmer and Sons.