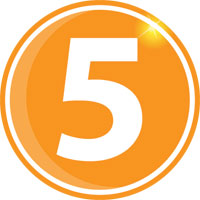 As energy prices continue to fluctuate and the temperature drops outside, it may seem difficult to stay comfortable without paying outrageous energy bills. However, with these five simple tips, you can cut your home heating bills this winter without sacrificing comfort.
Turn the temperature down: It may seem obvious, but for every degree you set the thermostat back, you can save 1 to 3 percent on your heating bills. To increase warmth, dress for the season, don your fluffy socks, sip on hot tea throughout the day and add an extra comforter to your bed. Be sure to turn the temperature down when you're away or sleeping to cut your home heating bills by another 5 to 10 percent.
Air seal your home: Drafts are a furnace's worst enemy. You can keep heated air inside where it belongs by replacing worn weatherstripping around doors, re-caulking windows, installing gaskets behind electrical outlets and applying expanding spray foam around penetrations in your attic floor. A tighter home is a more energy efficient home.
Boost insulation in the attic: With your attic floor thoroughly sealed, add a fresh layer of insulation. You should have at least 11 inches of fiberglass or rock wool, or 8 inches of cellulose, on every inch of your attic floor, including the attic hatch. You may want to leave the installation to a professional, so you don't accidentally create fire hazards or attic ventilation problems.
Schedule preventative maintenance: Your furnace works hard all winter long, so set it up for success with a tune-up from a qualified HVAC technician. Maintenance allows your equipment to run more efficiently, helping you cut home heating bills, while preventing total breakdowns that could result in an inconvenient and expensive repair.
Apply window film: You won't be opening your windows as frequently during the winter, so you can improve their insulating abilities by applying a plastic film. This inexpensive, translucent film is barely noticeable and comes off easily in the spring.
For more tips on how to cut your home heating bills this winter, please contact Detmer and Sons, Inc. We've been proudly serving Dayton residents since 1978.
Our goal is to help educate our customers in Dayton, Ohio about energy and home comfort issues (specific to HVAC systems).
Credit/Copyright Attribution: "preenutPN/Shutterstock"