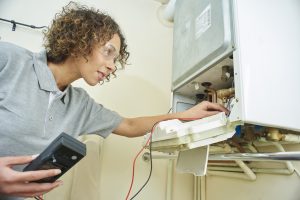 Now that warmer weather has arrived, you're likely focused on preparing your cooling system for the coming summer. This time of year, it's important to give your heater some post-winter care as well, to make sure it stays in good condition when it's not being used.
Proper heater maintenance in the summer can allow you to:
Avoid Emergency Repairs
Waiting until the start of the net heating season to schedule a furnace maintenance visit can leave you facing the inconvenience and cost of last minute or emergency repairs. By having your HVAC technician give the heating system a checkup now, any developing problems can be identified so you can budget for needed repairs over the summer, so you'll enjoy peace of mind that your heater is in optimal working condition come fall.
Plan an Equipment Replacement
Some furnace problems can't be fixed, like a cracked/corroded heat exchanger that lets carbon monoxide leak into your air supply. If your technician discovers this type of issue during a summer inspection, you'll have ample time to weigh your options for a replacement.
Address Safety Concerns
A heater maintenance checkup at the end of winter gives your HVAC pro an opportunity to find any concerning issues that might pose a safety hazard when you're running the cooling system, or when you start up the furnace again in the fall. Such issues can include leaks in the gas lines, obstructions in the vent system, or wiring and electrical component malfunctions.
Prevent Component Deterioration
Getting your furnace housing, plenum and burner inspected and cleaned before the humid weather settles in can prevent the corrosion of key HVAC components over the summer and help prolong the life of your heating equipment.
Eliminate Fuel Waste
Having your technician shut down the furnace at the end of heating season ensures that no fuel gets wasted over the summer months. This mainly applies to older heaters equipped with pilot lights that use a small amount of fuel when the furnace isn't running.
To schedule heater maintenance in your Dayton home this summer, contact us at Detmer and Sons.
Our goal is to help educate our customers in Dayton, Ohio about energy and home comfort issues (specific to HVAC systems).