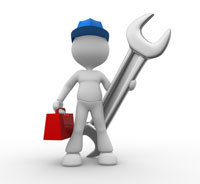 This past winter brought unpredictable weather, and this pattern has carried on into spring. For this reason, you may have forgotten about your annual A/C maintenance. It is important to add this to your spring to-do list, though, before the weather gets too hot, or you may find that your A/C unit isn't working or is performing inefficiently. By following these simple steps, you can ensure your A/C is in perfect working order before our Southwest Ohio weather really starts heating up:
General Cleaning
The primary reason your A/C unit might run inefficiently or may be prone to breakdowns is general dirtiness. Dust, dirt and debris can impede airflow to your air conditioner, both across the coils and through the ducts. You'll want to do the following: 
Vacuum all grills, registers and vents.
Clean or replace the A/C air filter if it's dirty. Inspect it monthly and change when it looks clogged up.
Gently vacuum the evaporator fins and coils located behind the filter, being careful not to bend or damage the fins.
Straighten any bent fins gently, using a putty knife.
Poke a small wire or paper clip through the drain hole under the fins to remove any blockage.
Trim back any foliage and move any yard debris near the outside condensing unit at least two feet away from the unit to ensure adequate airflow.
Optimization Check
Proper A/C maintenance requires more than just cleaning. Make sure that your thermostat is working properly and is set to provide comfort while at home and save money when you're away. Also, make sure that all moving parts are properly lubricated and the wire connections are tight. Loose wires can be dangerous.
Signs You May Need Professional Maintenance
Sometimes A/C maintenance goes beyond what you can do yourself. This includes checking refrigerant levels and the electrical connections and controls. Some homeowners are more comfortable, too, if a skilled technician handles the cleaning of internal A/C components, such as the coils and blower. Annual professional maintenance is essential, even if you are keeping up with certain do-it-yourself maintenance tasks.
Detmer and Sons, Inc. is dedicated to bringing you the best HVAC service in the Dayton area. Contact us for more tips or to schedule A/C maintenance today.
Our goal is to help educate our customers in Dayton, Ohio about energy and home comfort issues (specific to HVAC systems). 
Image courtesy of Shutterstock